Sunday, December 26, 2010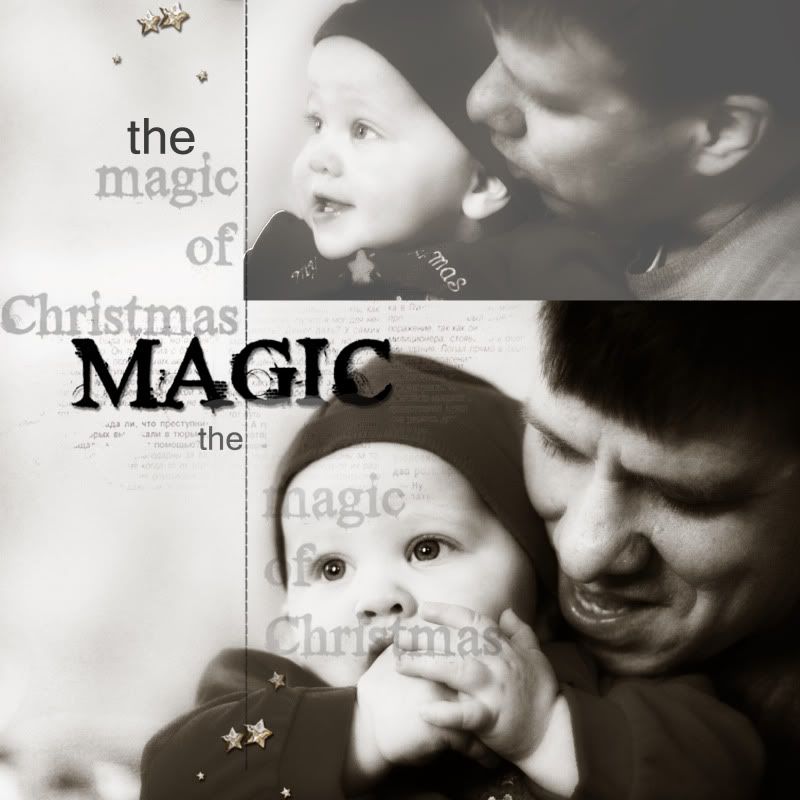 Posted by

Joanne
at 9:22 PM
No comments:

We spent Christmas at our house this year. Shea's mom, Aunt Theresa and Ricky shared the day with us. We had a lot of fun and made some wonderful memories. This Christmas was one that I hope will stick in my memory forever. The day started off us brunch. I made a breakfast casserole and yummy gooey monkey bread.
William got up before everyone was there and opened his stocking.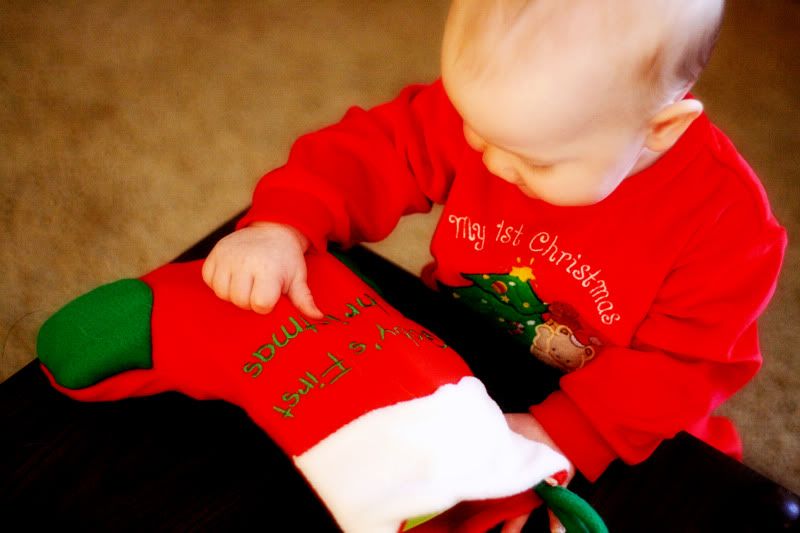 Then, after everyone was there we opened presents. There were some really cool presents that I want to mention so I will remember them. First of all Shea's gift from me. I actually found his present a couple months ago. I have heard over and over again from Shea and his mom that as a child he loved to listen to a record of Green Eggs and Ham by Dr. Seuss. I was in a thrift store a couple months ago and I found it on vinyl. I thought is would be a really great gift and cool accent to William's room in a frame. He was really surprised and loved it, but he was even more excited when I told him that it was 99 cents. That was the best present I could give him! Here is Shea cheesing it up for the camera...just for doing that I am putting your cheesy smile on my blog!
Aunt Theresa is so special to us and a big part of our lives. She is really a second grandmother to William and like a mother to me. Shea and I wanted to do something unique for her this year. Months back while I was helping her sort photos she came across a photo of her with her 2 sons. I could tell that she was really moved by the image so I swiped it. We had a float wrap made for her of the photo. It turned out so great. Her reaction was priceless.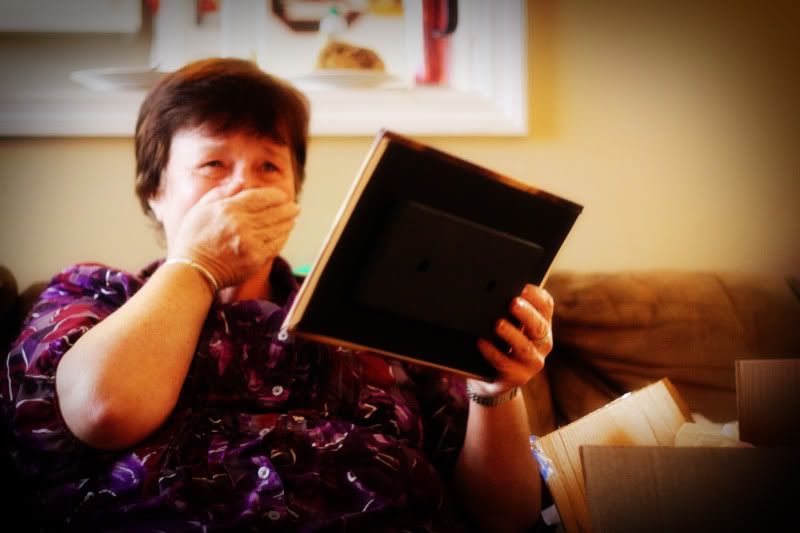 William of course got lots of great presents. He mostly enjoyed chewing on the tags, boxes, paper and bows.....we could have saved a ton of money!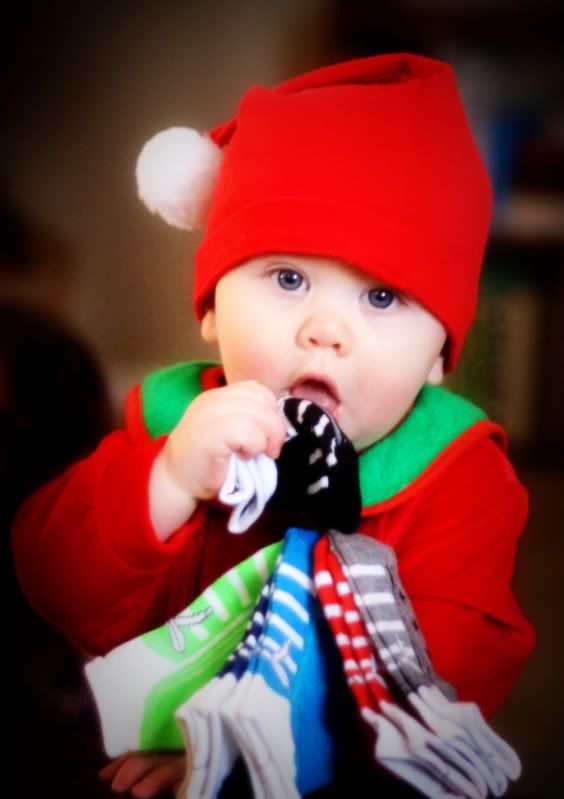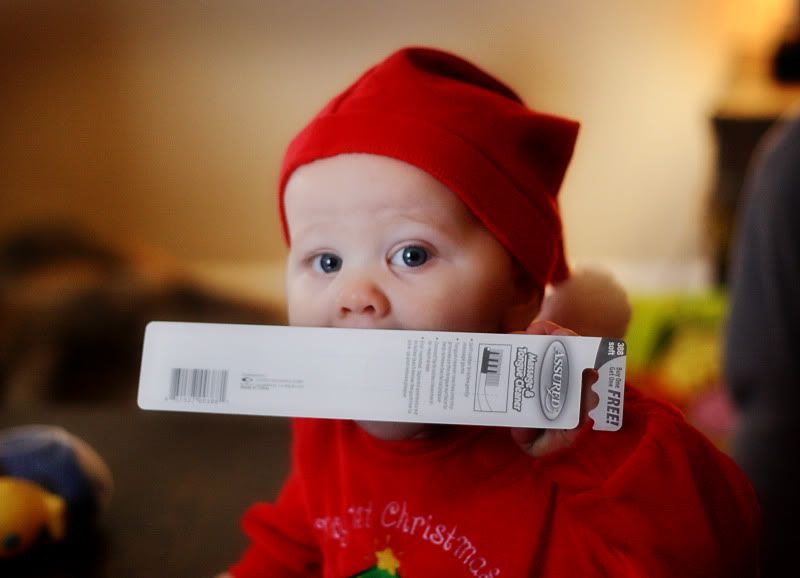 I actually made it into a photo!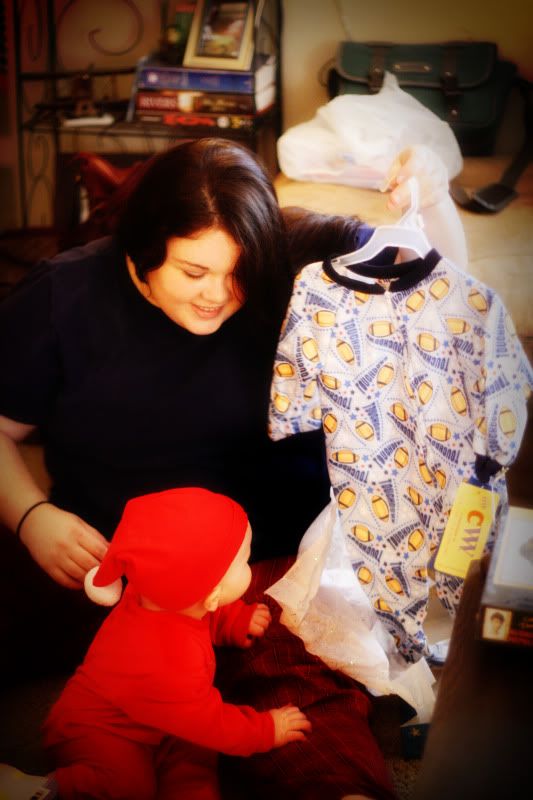 Here are William and Aunt Theresa playing on the floor together.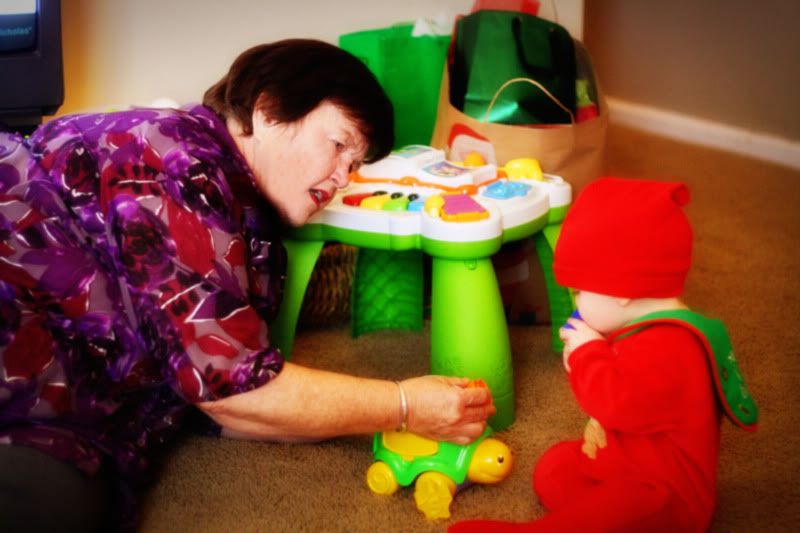 Mama and her santa baby.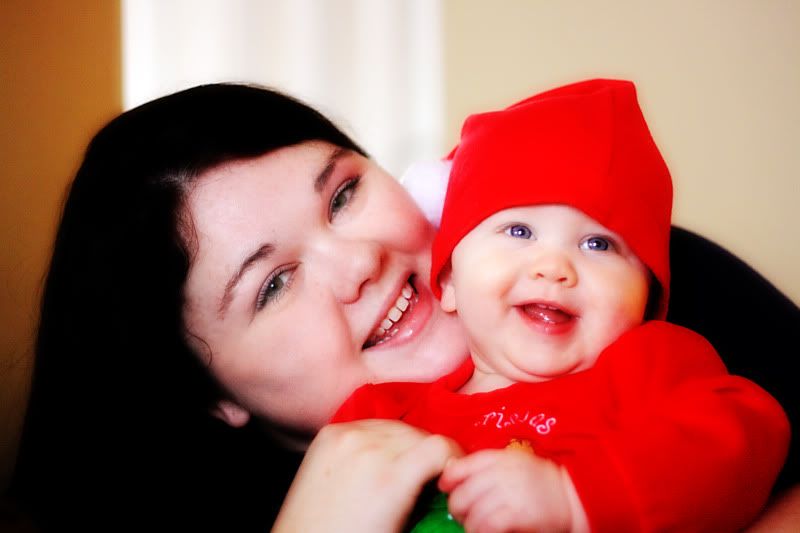 What every boy needs....his own airplane...maybe he will let his daddy fly it sometime until he gets his own to fly.
William would probably have to say about his airplane that it rides good...and tastes even better. He teethed all day, no fussing, but drooling and chewing on all of his gifts (and ours).
My super soft, comfy robe.
I feel so greatful for the blessings in my life. Days like these make you reflect of what you love, what you miss and what is most important to you. So, now that this majestic season is coming to an end, and the celebration of that sweet baby that was born more than 2000 years ago is fading into I new year I am relfecting on all that He has given me. My cup runneth over.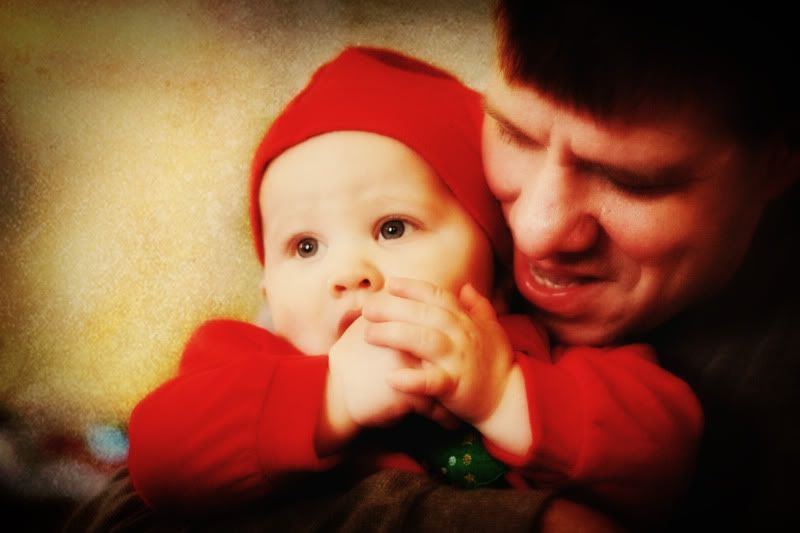 Posted by

Joanne
at 8:17 PM
No comments:

Wednesday, December 15, 2010
I wanted to get some 9 month pictures of William. Since it is Christmas I thought I would add a touch of the season in them. But not too much of course, I am not a fan of cheesy.....but I may have slipped a little......
I just couldnt resist putting that santa hat on him. I have too say too that my vision was him naked with his back to me sitting on the hardwood floor. I didnt get what I wanted. He was happy as a clam being naked and as soon as I put him down and took my place he had left his place. The lights kept him still at least.
I must say too, that he was an awful "client for the day." If this was someone else's child I would have probably said that let's reschedule.
I thought he would be in a great mood, he slept in the car on the way there, just ate it should have been smooth sailing, but well babies are babies.
Aunt Theresa handed him a candycane at one point, thinking that he would just play with it. Of course the path to his mounth was inevitable, but I had no idea he could get it OPEN!
And that he did!! And when I took it from him he was MAD, I had never seen him get so mad at me before.
I did get some shots that are absolutley some of my favorite photos of him.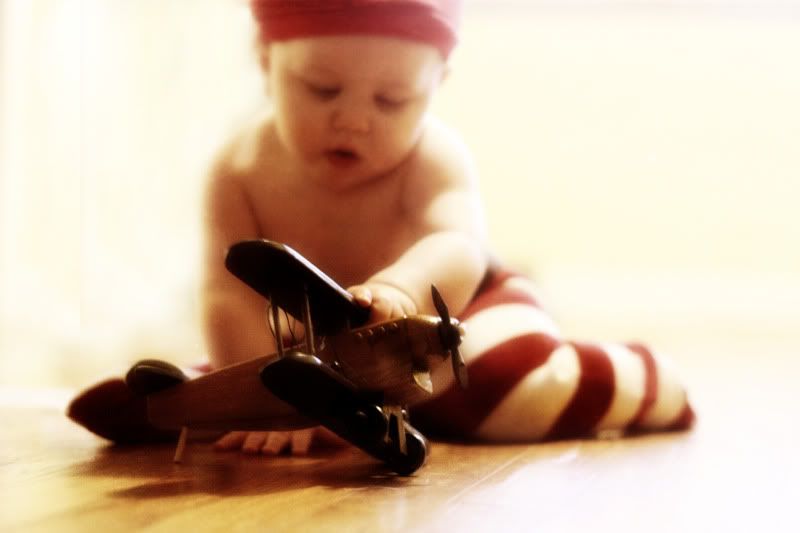 Now that is my sweet boy!
and finally....there is that sweet smile. The quality isnt the best, but I love that face.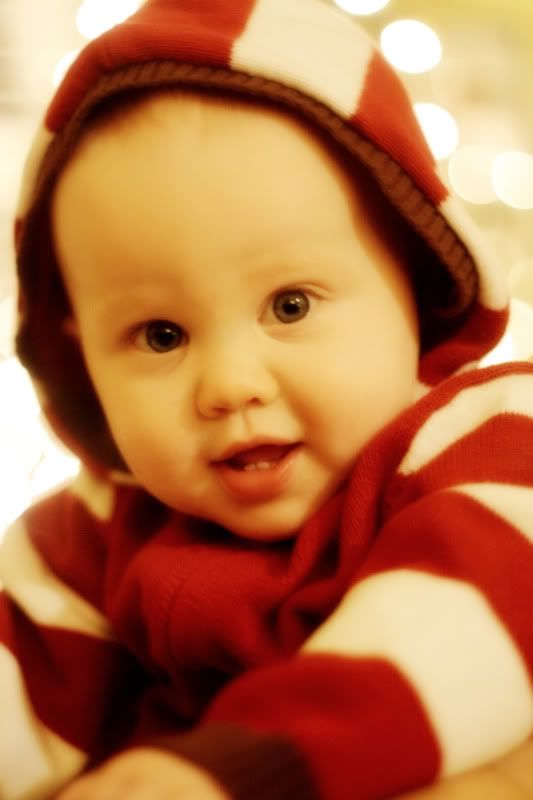 Posted by

Joanne
at 1:05 PM
No comments:

Tuesday, December 7, 2010
As a child I remember my mama putting the Christmas tree up every year on Thanksgiving night. This year I decided to pass that little tradition from my mama onto our family. I have been really excited to start decorating for William's first Christmas, and honestly that is the biggest reason that I did it. The comforting thought in that is that I know I get that from my mama. The excitement.... and a little impatience too. I wonder if she felt as I did unable to wait any longer anticipating the start of the most wonderful time of the year. Having a child really has made it so magical.
We
received
two special ornaments last year to represent our year in 2009. One is a little stocking that says Just Married on it with our wedding date and names. The second one is this snowman. It reads "We are having a baby in 2010."
I love adding to my Christmas collection. I have bought a few things every year for the last 2-3 years. This year though I have been given a few things that I will cherish for years to come.
I
haven't
found a baby's first Christmas
ornament
yet, but Angela got this one for William to hang on the tree. It is one of the cutest things I ever seen. It really represents our year too.
This has been an awesome year for the South Carolina Gamecocks. They won the college world series in baseball, beat the #1 team in the nation in football and for the first time they won the SEC East title.
We attributed all of their success to the birth of William of course.
So I feel that this a fitting family ornament for the year 2010.
My friend Amanda
hand painted
and gave us this little cutie. I know how much time and work goes into making something for someone. I was really touched when I opened the gift from her.
For some reason I just love this ornament. I have had it about 2 years. I think I got it for a dollar somewhere. Something about it just makes me warm and fuzzy. Okay, I cant believe I wrote that. Anyway, I just think it is really beautiful and vintage looking. I
don't
have an actual nativity scene so in a way it serves that purpose. Jesus is a toddler though. I think it kind of looks like my little family in a way.
This last one is really special. This weekend William and I were over at Aunt Theresa's house helping her put ornaments on her tree. She has so many. Each one she unwrapped had a story, some were 45-50 years old. I wish that someone pulled out ornaments every year with a story of me as a child. I really long for things to reflect my childhood at times. And
sitting
with her, I silently wished that I knew if there was ever an ornament for my first Christmas. As we looked at each one, from so many different years I came
across
one from the year I was born. In passing I just said "hey that's the year I was born." When we went to the put the ornament on the tree, Aunt Theresa said that she wanted me to have it. She said that she bought it for me 26 years ago and is just now getting around to giving it to me.
Tis
the season.......
Posted by

Joanne
at 8:30 PM
No comments: